About WSSD
Windows Server Software Defined (WSSD) Program is an invitation-only program by Microsoft in which solution providers design hyperconverged appliances that integrate Windows Server 2016 Software-Defined infrastructures. After going through Microsoft's validation and requirements, one's solution can be endorsed by Microsoft as the quickest, low risk, cost-effective way to consume Windows Server 2016 Software-Defined Data Center.
The WSSD program requires solution providers to meet four phases—design, validation, deployment and operations. Designed configurations must be reviewed and validated by Microsoft, following Software-Defined Datacenter Additional Qualifications (SDDC AQ). Afterwards, one must firmly follow Microsoft's deployment and operation policies to be considered part of the WSSD program.

QCT and QxStack Windows Server 2016 Cloud-Ready Solution
QCT has long been partnering with Microsoft in delivering enterprise solutions that best fit their clients' needs. WSSD validation demonstrates our values in performance optimization and economic price per performance. In order for QCT to pass validation, QCT-designed appliances must undergo their Private Cloud Simulator (PCS) within SDDC AQ. PCS measured QCT solution's ability to withstand all potential scenarios associated with storage clusters and VMs a datacenter could encounter over the course of a year. High level stress tests could run 1000 times at most on our appliances under these conditions. QCT's QxStack WS2016 MSW2000 and MSW6000 hyperconverged appliance are now validated by the SDDC AQ qualification, with MSW8000 currently under review. As QCT continues to strictly enforce Microsoft's policies, QCT's will always provide the best in class Windows Server 2016 to its customers.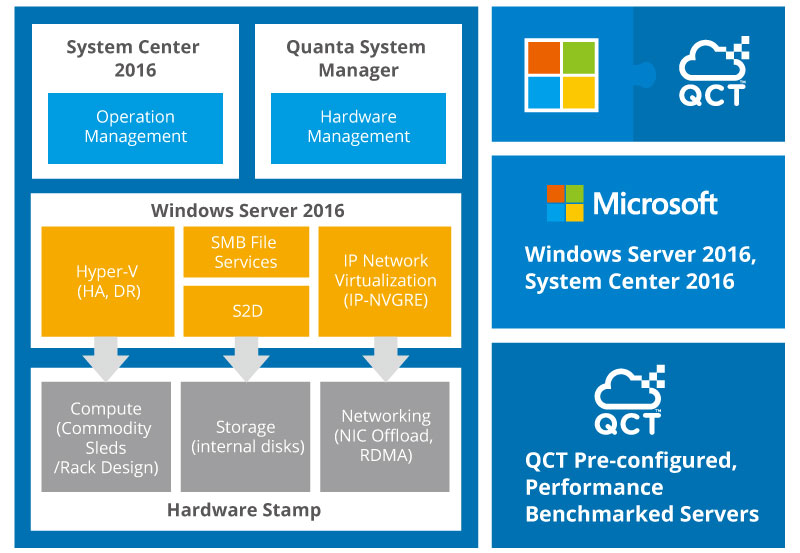 Overall QxStack Windows Server 2016 Features & Benefits
Seamless Scalability
Enterprise can economically consume additional servers as their business grows.
Fast Deployment
Simpliflied procurement and deployment process that greatly reduces complexity and deployment time by 80%.
Enhanced Availability
All drives are redundant and easily replaceable in minutes, and QCT enables VMs to seamlessly transfer to other nodes in case one server shuts down.
Simplified Management
Quanta System Manager (QSM) synchronization with SCOM enable users to monitor and manage workloads and hardware in one console. Customized dashboard and 24/7 alert on hardware conditions.
MSW2000 series
The Prime Solution that Fulfills your Capacity-intensive Needs
As enterprises increasingly adopt their workload on software-defined datacenter, QCT-designed MSW2000 contains over 400 TB in 1U 4 nodes with caching, and to continue provide over 1 Million IOPS. It is economical, and best suited for a wide variety of enterprise workloads that require large capacities.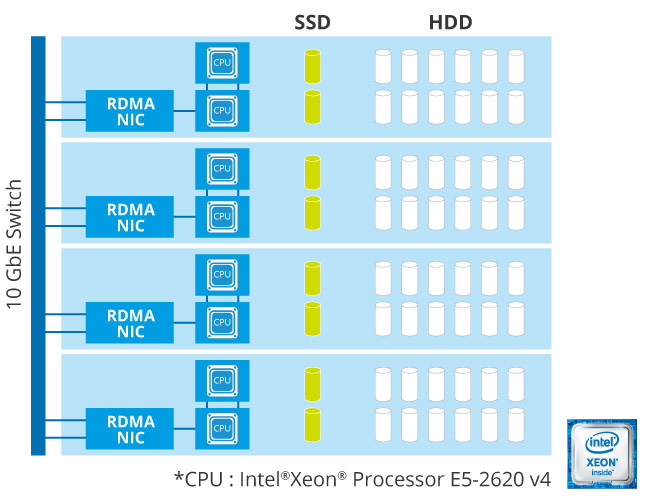 MSW6000 series
Innovative 2-tier All Flash Solution with Enhanced and Consistent Performance
QCT's MSW6000 Solution features performance consistency and performance-capacity balance. MSW6000 ensures performance remain consistent throughout user's experience. It also provides over 1.5 Million IOPS and 1.8G/Sec of throughput in 2U form. No matter its virtualization, enterprise application purposes, or more, MSW6000 has you covered.